Other Remote Services
In addition to our mobile app (Edge Mobile) and our home banking (ElectronicEdge), we have several other services available remotely so you can manage ALL of your finances on the go - or from home on the couch - so you don't even need to come in to one of our offices to see us. (Don't get us wrong, we love to see you! We just like to have options availble for those who would like to use them.)
You can:
Pay Bills with Online Bill Pay
Or check out these other great options for managing your funds online:
Save Time + Money Go GREEN with e-Statements!
With e-Statements, you can help the environment and help yourself at the same time. This eco-friendly service has lots of benefits:
SECURE
e-Statements are securely delivered via ElectronicEdge Online Banking, not your mailbox which greatly reduces the opportunity for Identity Theft. You are notified via email when your e-Statement is ready to view within ElectronicEdge.
FAST
Your statement will arrive faster, since there's no need to wait for mail delivery!
GREEN
Since it is delivered electronically, it greatly reduces the use of paper and fuel costs.
To enroll in e-Statements, simply follow these easy steps:
Log in to ElectronicEdge
Select E-Statements under the Online Services Tab at the top
Read through the disclosure and choose accept
That's it!
(If you have not previously logged into ElectronicEdge, please contact the Member Service Department by calling 989-892-6088 and press 5, or by email)
Text Banking / Inquiries
Inquiries via Text
You can text questions or inquiries to our member contact center during regular business hours. Examples of what you can text are:
Text Loan to 8926088 to get our latest loan specials
Text Rates to 8926088 to get our latest deposit rates
Text Hours to 8926088 to get our hours of operation
Text Mortgage to 8926088 to get our current mortgage rates
Or you can text a general question and one of our Member Contact Center Representitives will reply as soon as possible!
AudioEdge (account access by phone)
AudioEdge is a FREE credit union service that allows you to conveniently complete a variety of transactions from any touch-tone phone. You´ll love the freedom to conduct your financial business anytime from anywhere!
Account Access: 24 Hours a Day - 7 Days a Week: 989-892-6088 or 800-610-2764 & Press 3
Easy: at no additional charge, you can have unlimited access to your accounts 24 hours a day, 7 days a week through any touch-tone phone.
Confidential: AudioEdge operates with a personal identification number (PIN).
Menu options include

Balance Inquiries
History Inquiries
Transfer Funds
Checking Information
Loan Information
Line-of-credit Advances
And More!
To sign up contact our Member Contact Center at (989) 892-6088 or (800) 610-2764 and press 5, or stop in to either branch location.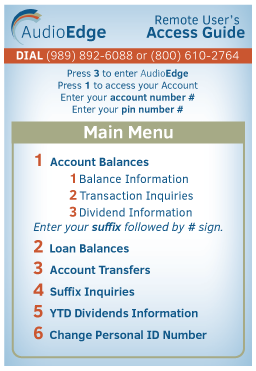 Go to main navigation