Checking Accounts
Checking accounts are designed to help keep your finances running smoothly. With free ElectronicEdge online account access, online check reordering, Estatements and debit card access, checking never looked better! Overdraft protection is available on any of our checking accounts. Fees may apply. Please ask us for details.

Not sure which checking type is right for you? Contact the Member Service Department for personal assistance in choosing an account to meet your financial needs.
Click here for current Checking Rates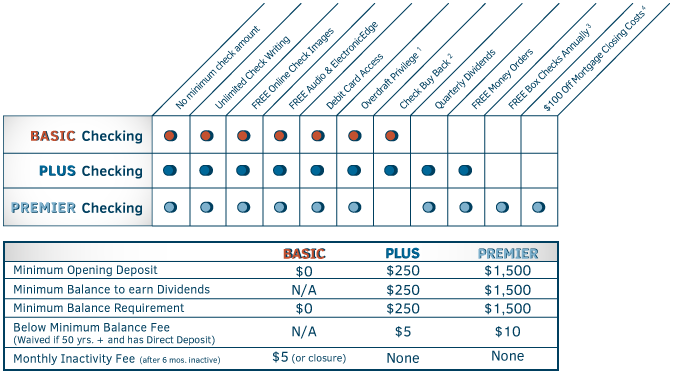 Overdraft Privilege FAQs:
What is Overdraft Privilege?
Overdraft Privilege is a discretionary service designed to help prevent your insufficient funds items from being returned or declined. With Overdraft Privilege, we have the option to cover your overdrafts up to your Overdraft Privilege limit (including fees) if you inadvertently overdraw your account. This can save you the embarrassment and inconvenience of a returned or declined item and the fees normally charged by merchants for items returned to them. FinancialEdge Community Credit Union may provide you a specific Overdraft Privilege limit depending on the type of account you have. You will receive a letter approximately 60 days after account opening, for personal and business accounts, informing you that Overdraft Privilege has been activated on your account. You do not have Overdraft Privilege until you receive this notification.
Please be aware that the Overdraft Privilege amount is not shown in your available balance, it is not a line of credit and it does not replace existing overdraft options such as drawing funds from another account, which may be a less expensive alternative to Overdraft Privilege.
How Does Overdraft Privilege Work?
These are the steps taken when you don't have enough money to cover a transaction:

1. First, we will try to move funds from other overdraft protection sources, such as a savings account.
2. If these resources are unavailable, we may pay the item and overdraw your account up to the amount of your Overdraft Privilege limit (including the overdraft fees).
3. If Overdraft Privilege is utilized, we will charge the standard overdraft fee(s) for each paid item.
4. Finally, you will need to bring your account current within 35 calendar days for at least one business day or we will withdraw your Overdraft Privilege.
How Much Does Overdraft Privilege Cost?
There is no fee for having Overdraft Privilege unless you use it. The Overdraft Fee of $25 will be imposed for overdrafts created by checks, ACH, point-of-sale, ATM withdrawals, in-person withdrawals, or by other electronic means (If multiple items are presented against your account on the same day, each item will be assessed the appropriate fee). This is the same fee that FinancialEdge Community Credit Union charges for items returned to the payee due to insufficient funds.
What if I want FinancialEdge Community Credit Union to pay my ATM and everyday debit card overdrafts?
If you want us to authorize and pay overdrafts caused by ATM and everyday debit card transactions, tell us by using one of the following methods:
please complete the Opt-in Form which is available at any branch, and was given when the account was opened or was mailed to your listed address, and send it to us at P.O. Box 446, Bay City, MI 48707
bring it by one of our convenient branch locations
call us at 989-892-6088
send us an email at optin@financialedgeccu.org
What if I Don't Want Overdraft Privilege?
You can request to discontinue the Overdraft Privilege service in its entirety at any time by contacting us at 989-892-6088. Without Overdraft Privilege, your insufficient funds items will be returned to the payee and/ or declined at the point of purchase. You will be charged the standard NSF fee of $25 for all returned items.
Click here for more information about Overdraft Privilege
Click here to download the form to opt-in
Go to main navigation