Other Products & Services
Direct Deposit
FinancialEdge CU is pleased to offer its membership Direct Deposit. Direct Deposit eliminates the hassles of cashing your payroll check on pay day and is safer than having a check in hand that can be lost or stolen. SAVE TIME! Sign-up for Direct Deposit today. You will need:
The FinancialEdge CU Routing and Transit (ABA) Number — 272476844
Your FinancialEdge CU primary account # (Example 123456)
Indicate through your payroll provider (form) where you want your electronic deposit placed (i.e. savings or checking)
DO NOT add account suffixes to the base account number
To sign-up for Direct Deposit, please contact your employer to see if they offer this service. Direct Deposits are received electronically on non-holiday weekdays.
Distribution Option:
After your Direct Deposit has taken effect, you will become eligible for an optional FREE distribution service. This service distributes the Directly Deposited funds into other share accounts or as loan payments, as directed by you. No longer will you need to worry about transferring funds to other accounts or make loan payments on pay day. Let FinancialEdge Credit Union do the work for you!
For more information, you may reach our Communications HUBB at 989-892-6088, option 5.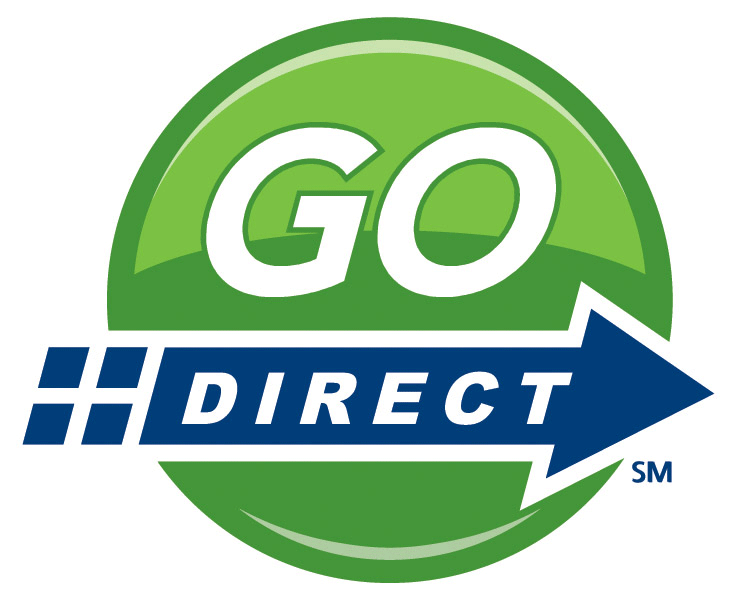 FinancialEdge backs direct deposit of Social Security payments with Go Direct
FinancialEdge Credit Union is pleased to partner with Go Direct, a national campaign sponsored by the U.S. Department of the Treasury and the Federal Reserve Banks, to encourage people who get Social Security and other federal benefit payments by check to switch to direct deposit.
Direct deposit is simply the best way to receive Social Security and Supplemental Security Income (SSI) payments. Direct deposit eliminates the risk of lost or stolen checks, reduces fraud, helps protect against identity theft and gives people more control over their money. Plus, direct deposit provides people with immediate access to their money from virtually everywhere.
Direct deposit also saves taxpayers millions of dollars. If every current federal benefit check recipient switched to direct deposit, it would save taxpayers about $120 million a year. Almost all the money saved remains in the Social Security Trust Fund – a benefit to all Americans for years to come.
Need help? Stop by our Communications HUBB at either branch location or call 989-892-6088, option 5.
Wire Transfers
Incoming Wires:
To wire funds to FinancialEdge Credit Union, you will need the following information:
Alloya Corporate Credit Union
Southfield, MI 48086-5092
ABA: 272478075
For credit to:
FinancialEdge Credit Union
Account Number 272476844
For further credit to:
(Member's Name), their account number with the suffix of -01 for savings and -70 for checking
Outgoing Wires:
To wire funds from FinancialEdge Credit Union, members are responsible for obtaining wire transfer instructions from the receiving financial institution. You may then call our Communications HUBB at 989-892-6088 or 800-610-2764 or stop by either branch location.
A signed fax with transfer instructions will be required for requests by phone.

There is a small fee to place each order, please refer to our Fee Schedule for more details.
Member Discount Life / AD&D Insurance from TruStage
TruStage Life Insurance
Designed for credit union members, to help your portect the achievements and aspirations of those who matter most in your life.
What is life insurance?
Life insurance is an important part of a financial safety net you can provide your loved ones in the event of your passing. Life insurance helps provide peace of mind, knowing that your beneficiaries will receive money, when they need it most.
How does it work?
Life insurance pays your beneficiaries money, which can be used for any purpose.
Important times to consider life insurance:
Marriage
Birth of a child
Buying a home or refinancing
Planning for college expenses
Divorce
Changing jobs

TruStage AD&D Insurance
$1,000 of insurance coverage is available at absolutely no cost to you. Exclusively for credit union members.
Visit TruStage or call 1-888-888-3942 to activate this coverage.
This can be a valuable and affordable supplement to life insurance and pays a cash benefit in the event of a covered injury or death due to an accident.
Visa Gift Cards
FinancialEdge CU is pleased to offer members Visa Gift cards* - The perfect gift for any occasion! They're great for weddings, anniversaries, birthdays, graduation or use them for travel in lieu of travelers' checks.
Present your Visa Gift card to any merchant displaying the Visa® logo, sign a receipt, and the purchase amount is deducted from the gift card balance. No PIN needed.
Can be used in stores, restaurants, online and more - anywhere you see the Visa logo.
You choose the amount; between $10 and $1,000.
Available at both FinancialEdge locations in a variety of styles
Just $2.95 each
Looking for bulk orders of 25 or more cards at once? We offer discount pricing. Call 989-892-6088 for details.
To obtain a Visa Gift card or for more details, please visit the credit union or call our Communications HUBB at (989) 892-6088 or (800) 610-2764 and press 5.
* This card is issued by MetaBank pursuant to a license from Visa U.S.A. Inc.
Night Drop
FinancialEdge Credit Union will process transactions received by mail or night box dropoff on the next business morning. FinancialEdge Credit Union can not be liable for lost or stolen transactions. Please allow 5 - 10 business days for a transaction to reach FinancialEdge Credit Union by mail.
You may mail your transaction to:
FinancialEdge Credit Union
PO Box 446
Bay City, MI 48707
Notary
FinancialEdge Credit Union is pleased to offer several notaries on staff and at each of our branch locations. To better assist you in this FREE service, please have the following information available upon your arrival:
1. A valid Driver's License or picture ID, which MUST contain your signature.
2. The documents to be notarized.
Please note: DO NOT sign the documents before you arrive.
You may reach our Communications HUBB at 989-892-6088 or 800-610-2764 and press 5 for more details.
Go to main navigation