Loan Specials
Rate Drop Protection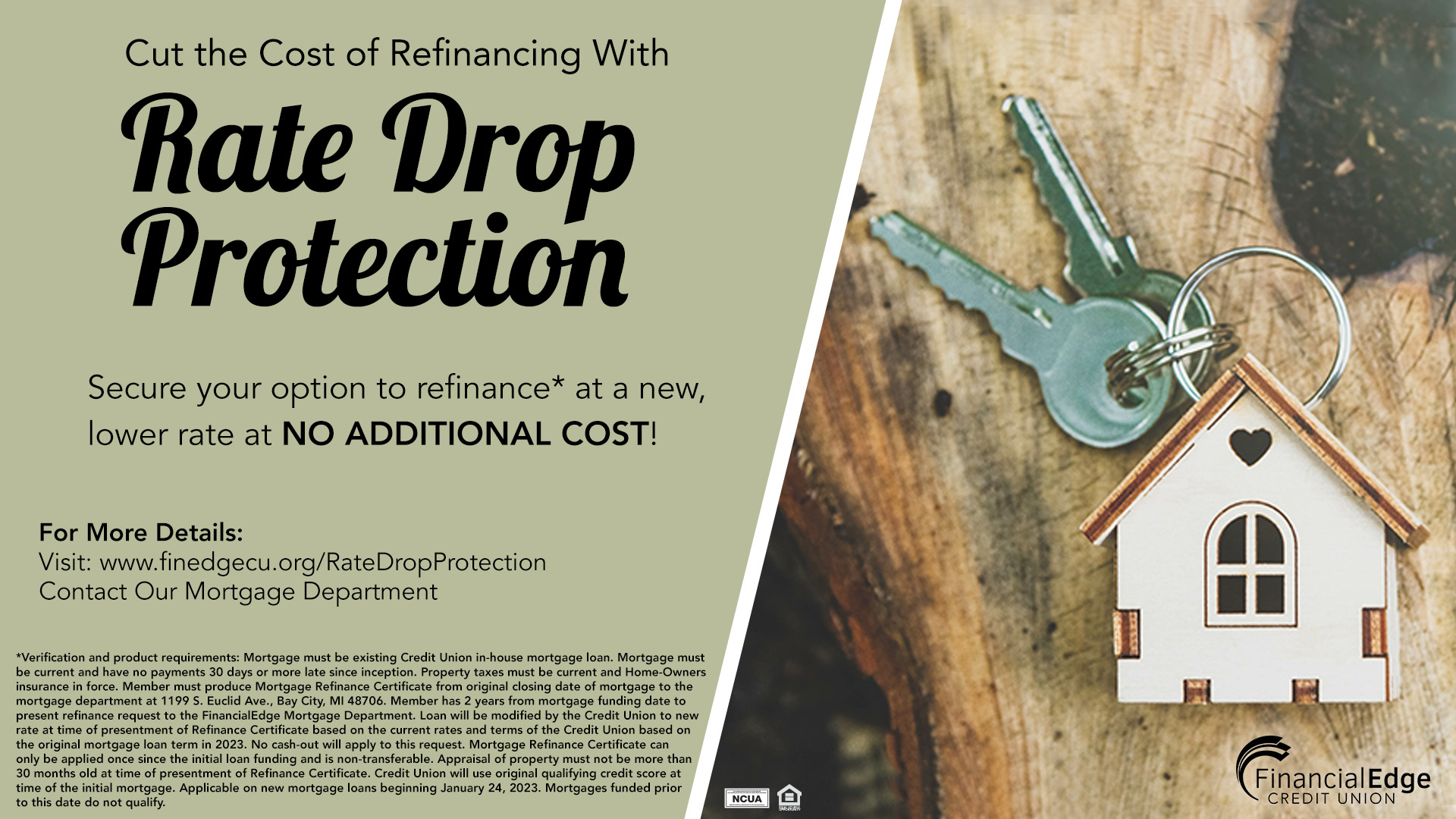 Rate Drop Protection
Time to move into another home? Maybe you've outgrown the one you're living in now. Perhaps you're in a better financial position than you were when you bought your last house. Maybe you're moving to a new town with a new job. While it really doesn't matter why you need a new house, it does matter how you go about purchasing it.
No one likes the hassle of buying a home the old way, including us. That's why we've invested our energy into streamlining and updating the entire mortgage process. We're pleased to bring you a faster, more technologically advanced way to finance your home.
PLUS, make sure you ask about our Rate Drop Protection, which can help cut the cost of refinancing your home down the line! With Rate Drop Protection you'll have the option to refinance* your home at a new, lower rate at NO ADDITIONAL COST if the market conditions alter to your benefit within 2 years of the date your mortgage was funded. For full details, talk with our Mortgage Department.
*Verification and product requirements: Mortgage must be existing Credit Union in-house mortgage loan. Mortgage must be current and have no payments 30 days or more late since inception. Property taxes must be current and Home-Owners insurance in force. Member must produce Mortgage Refinance Certificate from original closing date of mortgage to the mortgage department at 1199 S. Euclid Ave., Bay City, MI 48706. Member has 2 years from mortgage funding date to present refinance request to the FinancialEdge Mortgage Department. Loan will be modified by the Credit Union to new rate at time of presentment of Refinance Certificate based on the current rates and terms of the Credit Union based on the original mortgage loan term in 2023. No cash-out will apply to this request. Mortgage Refinance Certificate can only be applied once since the initial loan funding and is non-transferable. Appraisal of property must not be more than 30 months old at time of presentment of Refinance Certificate. Credit Union will use original qualifying credit score at time of the initial mortgage. Applicable on new mortgage loans beginning January 24, 2023. Mortgages funded prior to this date do not qualify.
$0 Balance Transfer Special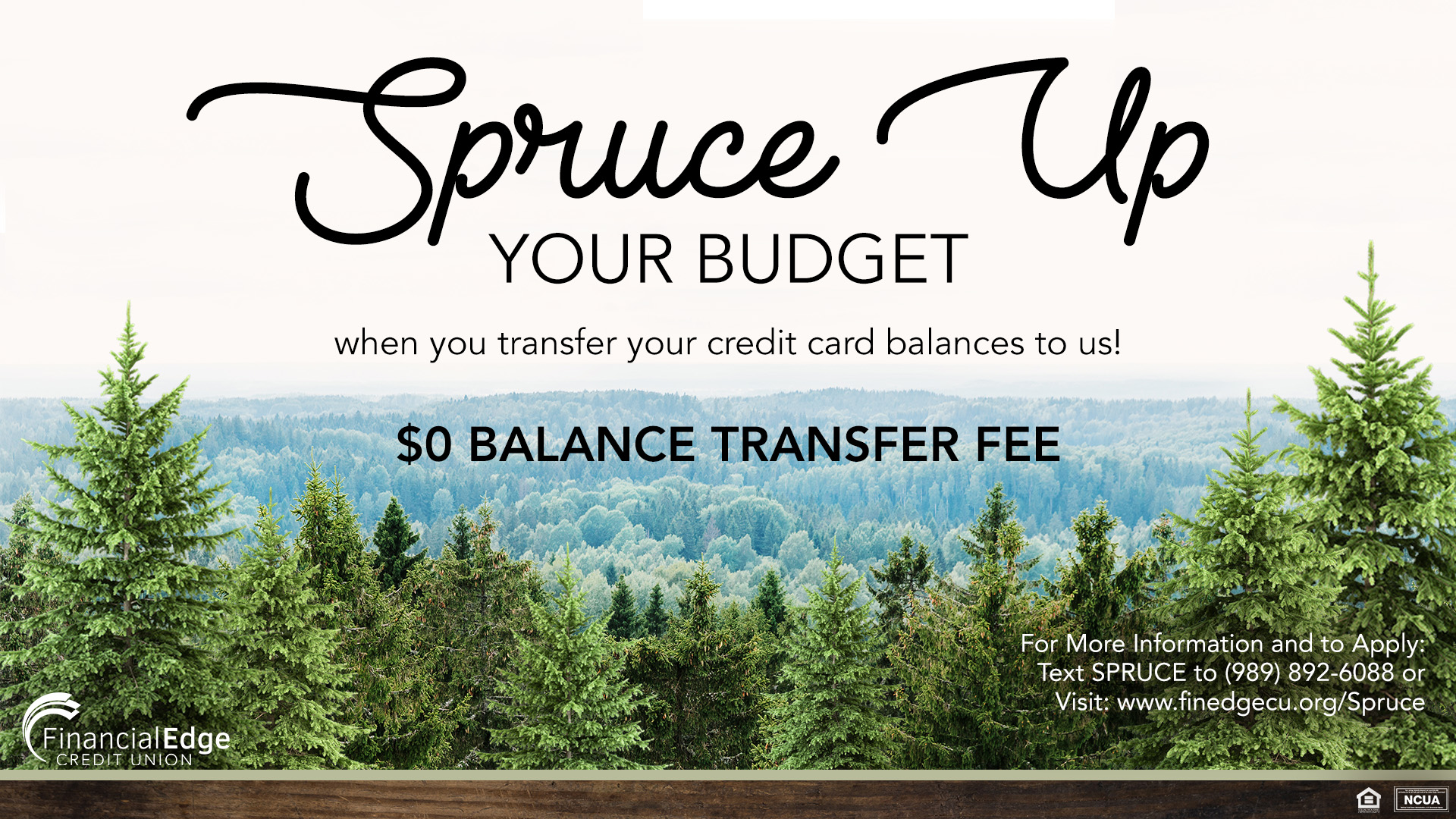 Spruce up your budget when you transfer your high-rate credit card debt to a FinancialEdge Mastercard® Credit Card with $0 balance transfer fees - LIMITED TIME ONLY!
ADDED BONUS: When you transfer your higher rate card and loan balances to a FinancialEdge Credit Union MasterCard® Credit Card you not only get a great rate, but you'll also receive these benefits**:
No Annual Fees

MyEdge Rewards (when you select the Rewards Mastercard)

Universal acceptance

Emergency Assistance

Fraud Protection

Travel Protection

Online account access

Worldwide ATM access

and more!
If you are a current FinancialEdge Credit Card holder, CLICK HERE for a printable version or CLICK HERE to fill out the application online.
If you do not currently have a FinancialEdge Credit Card, CLICK HERE to apply.
For more information or to apply by telephone, you may reach our Loan Department at 989-892-6088, or stop by our branch locations.
** Certain restrictions, limitations, and exclusions apply. Please call FinancialEdge CU directly to verify the specific benefits included with your card.
Go to main navigation