Loan Specials
Brighten Your Auto Loan Special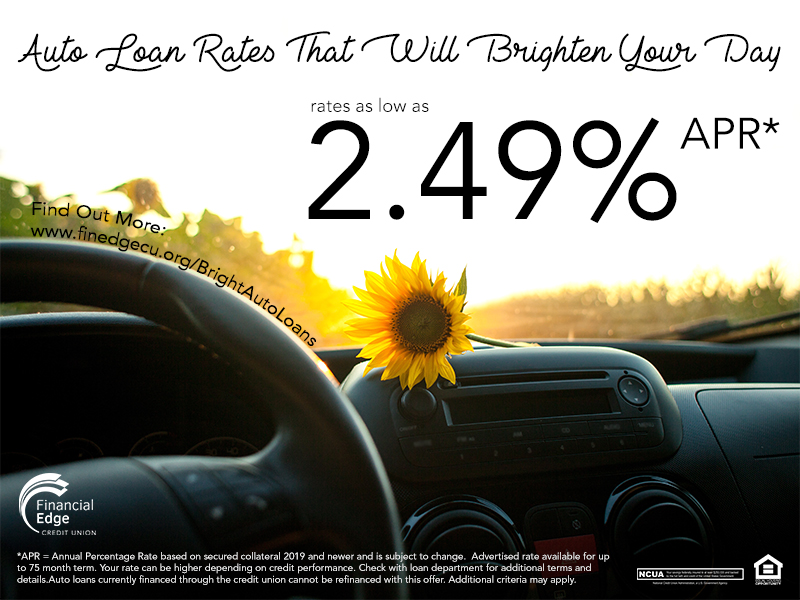 Get ready for summer and brighten your day with an auto loan rate as low as 2.49%APR*! Apply online or in branch today!
Our Auto Loan Special includes:
*APR = Annual Percentage Rate based on secured collateral 2019 and newer and is subject to change. Advertised rate available for up to 75 month term. Your rate can be higher depending on credit performance. Check with loan department for additional terms and details. Auto loans currently financed through the credit union cannot be refinanced with this offer. Additional criteria may apply.
Summer Skip-A-Pay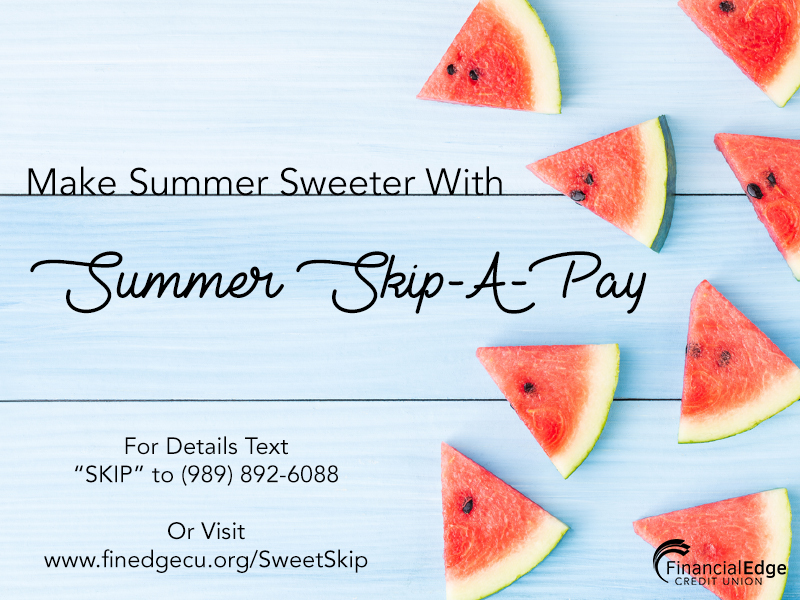 You've got better things to think about this summer besides your loan payments. While you're planning your summer why not make it sweeter by skipping your eligible* July or August loan payment** at FinancialEdge Credit Union. Use the extra cash for summer adventures, your favorite ice cream, a vacation or anything else you can dream of!
To get started, click below, text "SKIP" to (989) 892-6088 , give us a call at (989) 892-6088, or stop into one of our branches today!
Apply Here or Click for a Printable Version
*Eligibility requirements include all loans must be current, first payment on any loan cannot be skipped, eligible loans must be at least 3 months old, $25.00 skip-a-pay fee(s) must be available. Non-eligible loans include mortgages, credit cards, home equity loans, any loans with CPI, revolving/open end loans of any type and troubled debt restructured loans.
** To skip a holiday monthly payment(s), the 2021 Summer Skip-A-Payment Program form must be filled out and received by June 25, 2021 (for July Payments) or July 26, 2021 (for August payments). Forms received after the July 26th deadline will not be eligible for skips.
Go to main navigation