Loan Specials
Summer Skip-A-Pay 2022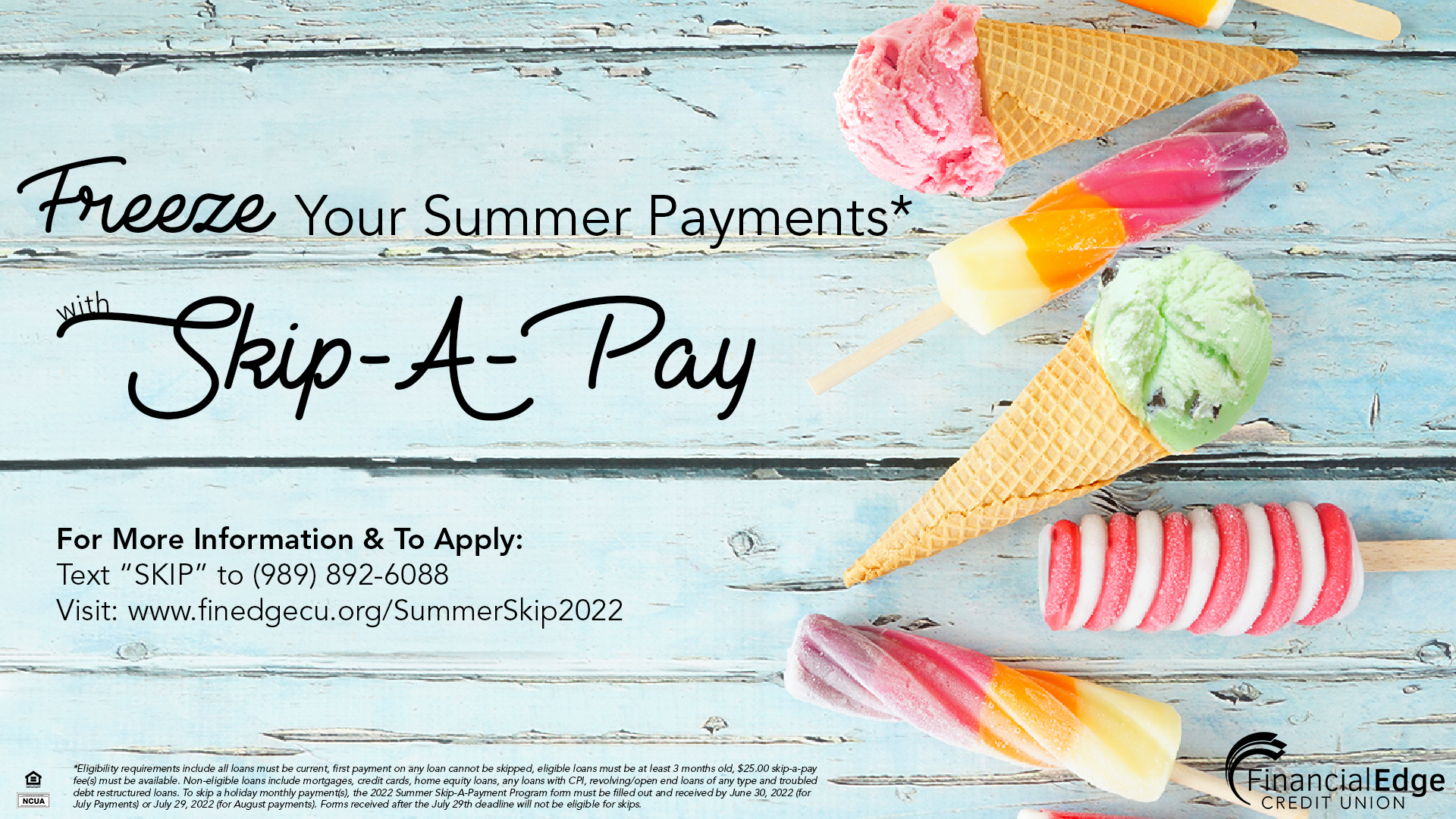 At FinancialEdge Credit Union we understand that the last thing you want to stress about in the summer are your loan payments – that's what our Summer Skip-A-Pay is here to fix! FREEZE your eligible* July or August loan payment** at FinancialEdge Credit Union and use the extra cash for summer adventures, your favorite ice cream, a vacation, or anything else you can dream of! To get started, click below, text "SKIP" to (989) 892-6088, give us a call at (989) 892-6088, or stop into one of our branches today!
Apply Here or Click Here for a Printable Version
*Eligibility requirements include all loans must be current, first payment on any loan cannot be skipped, eligible loans must be at least 3 months old, $25.00 skip-a-pay fee(s) must be available. Non-eligible loans include mortgages, credit cards, home equity loans, any loans with CPI, revolving/open end loans of any type and troubled debt restructured loans.
** To skip a summer monthly payment(s), the 2022 Summer Skip-A-Payment Program form must be filled out and received by June 30, 2022 (for July Payments) or July 29, 2022 (for August payments). Forms received after the July 29th deadline will not be eligible for skips.
Personal Loan Special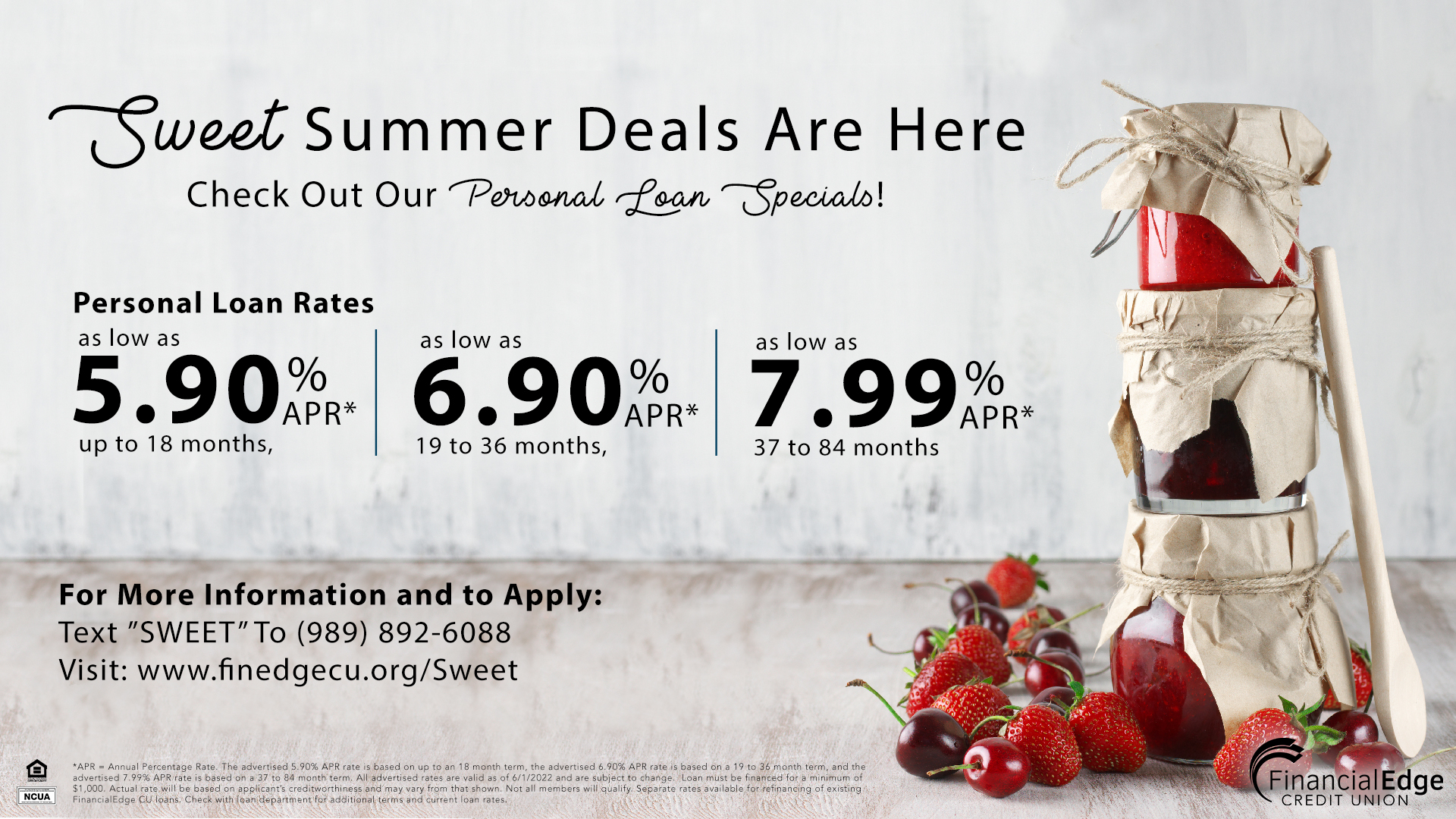 Need some extra cash this summer? We've got you covered with this SWEET deal on our personal loans! Personal loans can be used for almost anything - anywhere from summer projects, debt consolidation, car repairs, vacations, weddings, medical bills, education costs and more!
For a LIMITED TIME, We've Got These SWEET Rates Available:
As low as 5.90% APR* for up to 18 months

As low as 6.90% APR* for 19 to 36 months

As low as 7.99% APR* for 37 to 84 months
What are the Benefits of a FinancialEdge Personal Loan?
Fixed payments and payment schedules

No application fees

No collateral required on Signature Loans, just your good name, a good credit score and a promise to pay

the loan back
Don't wait! Apply for a personal loan with FinancialEdge today to help you reach your financial goals, whatever they may be!
Visit one of our branch locations

Call us at (989) 892-6088
*APR = Annual Percentage Rate. The advertised 5.90% APR rate is based on up to an 18 month term, the advertised 6.90% APR rate is based on a 19 to 36 month term, and the advertised 7.99% APR rate is based on a 37 to 84 month term. All advertised rates are valid as of 6/1/2022 and are subject to change. Loan must be financed for a minimum of $1,000. Actual rate will be based on applicant's creditworthiness and may vary from that shown. Not all members will qualify. Separate rates available for refinancing of existing FinancialEdge CU loans. Check with loan department for additional terms and current loan rates.
Go to main navigation