Savings Accounts
Membership in FinancialEdge Community Credit Union is easy. All it takes is a $5.00 minimum deposit to open your Member Savings Account. This simple, convenient account is the perfect starting point for any savings plan. (Under 18? Check out our MyJourney Account for kids ages 0 - 17).
You can also set up a Secondary Savings Account and give them a unique name to help you better manage your finances, such as "Vacation Account" or "Taxes". These accounts are similar to your Member Savings Account, but with no minimum balance requirement.
Click here for current Savings rates and terms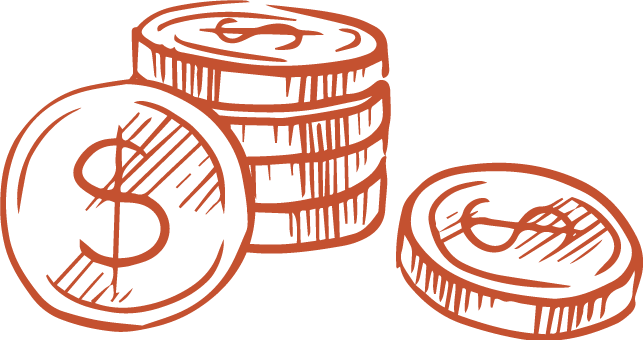 MyLife Savings
This special high-interest account can be added on to any of the MyLife Checking accounts. You earn 4.00% interest on balances up to $100,000.1 Plus, it allows you the option to round-up all purchases to the nearest whole $ amount - the difference automatically gets deposited into your MyLife Savings account for you!
You'll be amazed at how fast your Savings will grow!
Am I Eligible for a MyLife Savings Account?
Below are the qualifications needed:
Must have one of the MyLife Checking Accounts
Must have a minimum of 20 debit purchases in a statement period
Must be enrolled in e-statements
Christmas Club Accounts
A FinancialEdge Christmas Club account will have you decking the halls stress free. This account allows you to set aside spending money for the holidays. Save however much you wish to meet your needs, automatically or by depositing into the account as often as you wish. We'll keep your Christmas savings safely away in this special account and automatically deposit the balance (plus dividends) into your regular savings on the first business day in October, leaving plenty of time for your holiday planning and purchases. For your convenience, we can open your Christmas Club account for you over the phone or at any office location.
High Yield, IRA + CD information
myJourney Account - Youth Savings
1MyLife Savings: Upon enrollment, you will have the option to round up your FinancialEdge debit card purchases to the nearest dollar and transfer the difference from your MyLife Checking account to your designated MyLife Savings account. We aggregate the round-up from purchases that post to your checking account each business day and make a single transfer (the "MyLife Savings" transfer) at the end of the business day. If on a business day you do not have sufficient available funds in your checking account, or if any transaction has overdrawn your checking account, we do not round up purchases posted on that business day and we cancel the MyLife Savings transfer for that day. If your debit card purchase is subsequently canceled or reversed, the corresponding MyLife Savings transfer will remain in the savings account. MyLife Savings is available only on a debit card linked to your MyLife checking account. The following activities do not count as a qualifying debit card purchase: ATM-processed transactions, transfers between accounts. MyLife Savings is not available for Business debit cards. We may cancel or modify the MyLife Savings feature at any time without prior notice. When your MyLife Savings account qualifications are met during a Cycle, balances up to $10,000 receive APY of 1% and balances over $10,000 earn .05% interest on the portion of balance over $10,000 resulting in a range from .05% to 1% APY depending on the account's balance. When MyLife Savings qualifications are not met, all balances in the account earn .05% APY. Interest will be credited to your MyLife Savings account on the last day of the statement cycle in which these purchases post and settle to your account. APY=Annual Percentage Yield and is stated as of 10/1/2017 and subject to change.
Go to main navigation