40+ Wedding Budget Saving Tips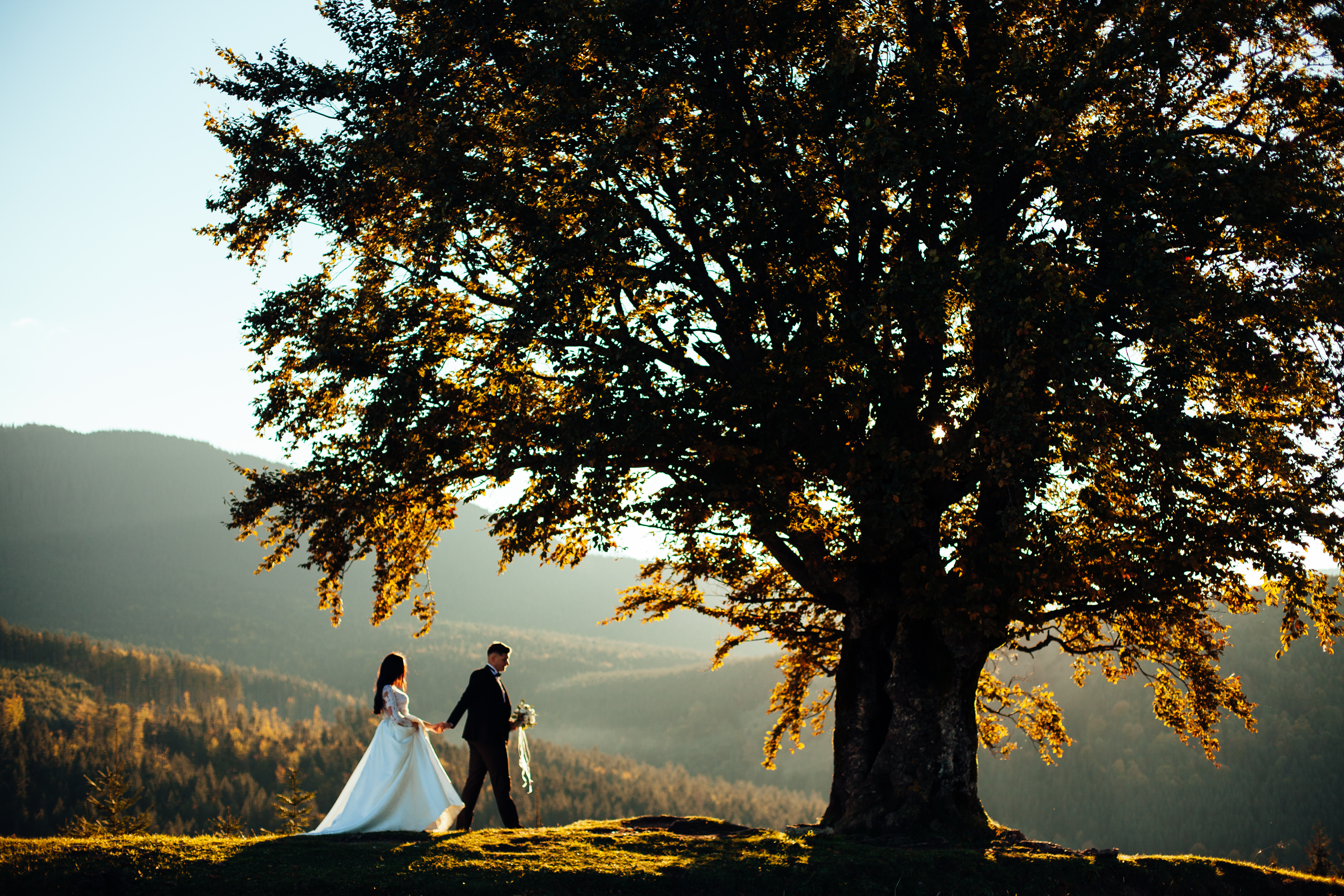 Chances are, there's something you're dreaming about for your wedding day that might be just a teensy bit over-the-top: a statement flower wall that rivals Kim and Kanye's crazy wall of blooms; not one, not two, but three stunning wedding gowns, à la Chrissy Teigen or Serena Williams; or, maybe just a diamond tiara worthy of a princess. But here's the thing: All that style is really, really expensive.
When it comes to planning a wedding, it's all about knowing your priorities and allocating your wedding budget funds wisely. That's why making a list of your priorities and setting a budget should be step number one of wedding planning.
From hacks that can knock $500 off the price of your wedding gown and $3 off each slice of wedding cake (that's $300 per 100 guests!), it's safe to say that this list has some tips that will help the two of you cash in on serious savings. The best part? These tips can save you money without sacrificing an ounce of style.
Keep reading for more expert-approved ways to save money on your wedding day!
1. Consider Other Days of the Week
A Friday wedding will save you thousands on your wedding venue and your weekday rehearsal dinner. Even better: A Sunday wedding. Site fees can be $4,000 less, plus food and beverage minimums are lower, which is great for smaller parties.
2. Choose Your Card Stock Wisely
If you like the look and feel of thicker paper stock, use two-ply for your invitations and make the rest of the insert cards one-ply only. You'll save $275 for every 100 invitations.
3. Skip the Envelope Liner
Using a colorful or otherwise untraditional outer envelope in lieu of an interior envelope liner means you could pay $1 less per invitation—plus it's a fun surprise when it shows up in your wedding guests' mailboxes.
4. Direct Your Guests to Your Wedding Website
When it comes to your wedding invitation suite, you can save as much as $800 by having a single insert directing guests to your wedding website instead of multiple cards for your other events—like the rehearsal dinner, welcome party or day-after brunch—as well as logistics, like transportation and details about the hotel room block you've set up for your guests.
5. RSVP Postcards Are Fresh and Fun
Replace the traditional reply card, which requires with its own additional envelope and stamp, with an RSVP postcard instead. Using postcards will cut costs on both printing and postage, as postcard stamps are cheaper than stamps for regular first-class mail.
6. Slash Your Printing Fees
Order any day-of printed items—such as wedding ceremony programs and dinner menus—at the same time as your wedding invitations. Doubling up by taking care of everything at once will minimize your printing fees.
7. Grab a Few Pens (& Maybe a Few Helpers)
Stationers can charge as much as $7 per set for envelope addressing, assembly and mailing. Don't be afraid to DIY assembling and addressing your own wedding invitations, especially if you have nice penmanship. Plan to spread the work out over several sessions, or speed up the process by asking for some help from close friends or family.
8. Get a Jump on Dress Shopping
Order your wedding gown at least eight or nine months out to avoid rush fees of as much as $500 and last-minute alterations of $100 to $300.
9. Watch for Deals (& Sales) on Social Media
Follow your favorite local bridal salons on social media to find out about trunk shows, sample sales and also to catch promotions like 10 percent off your gown, 20 percent off jewelry or a free veil with gown purchase.
10. Snag a Sample
Buying your dress off the rack at a sample sale means a retail markdown of 20 to 90 percent. Most occur before or after Bridal Market—which happens twice a year, in late spring and early fall—but even if a sale's not happening, don't be afraid to ask if the boutique has any samples they're looking to sell. Chances are, some gowns have already been set aside for the next one!
11. Seek Out Up-and-Coming Photographers
Rates that wedding photographers charge can vary widely, and one sure way to save some funds is to seek out new talent. Social media is a great resource; additionally, seasoned photographers can often recommend someone up-and-coming in their market, too.
12. Go Green(ery)
Don't underestimate the beauty of greenery in your bridal bouquet. It's inexpensive and adds a lot of size and texture to arrangements.
13. Borrow Your Jewelry
Rent your jewelry from a high-end site like Adorn, which lets you borrow a $30,000 diamond necklace for $300.
14. Make the Most of Your Photographer's Time
Consider booking your photographer for eight to 10 hours instead of a full day, which is typically 12 to 14 hours. They'll still capture all the important moments, but you'll pay as much as $4,000 less.
15. Score Second Shooter Savings
You can save several hundred dollars by booking a second shooter to assist with only the getting-ready shots, some venue details and the ceremony, which means they're done much earlier in the day.
16. Pass on Ordering the Extras (for Now)
To save on your wedding photography, you can always choose a less-expensive package that doesn't include hard-copy prints and albums. Those can always be bought and/or printed later.
17. Embrace Minimalist 'Maids Bouquets
You need only two or three large blooms with a little bit of filler to create bridesmaids' bouquets that are minimalist cool—and $50 cheaper apiece.
18. Banish Boutonnieres
Skip the boutonnieres, which can set you back $300. Encourage your partner and those in the wedding party to sport pocket squares instead.
19. Sharing Is Caring (& Means Fewer Programs)
One more way to save on your printing costs? Print just one ceremony program per couple, instead of one per guest.
20. Have Your Ceremony Florals Do Double Duty
There are so many ways to repurpose your wedding flowers! Use decorative florals from your ceremony site to adorn the escort-card table or the bar, and bridesmaids' bouquets work great for reception tables.
21. Ditch the Escort Cards
Have your stationer (or another DIY maker) design one main seating-chart poster or display instead of personal escort cards, which can be $3 each. If the poster costs $250, that's $50 saved per 100 guests, and the savings only increase from there.
22. Go for a Wow Moment
Work with your florist to design a major floral statement that guests will drop dead over instead of spreading your budget thin with a room full of smaller arrangements that they'll walk right past. Focus on areas where they'll congregate, like the bar and the dance floor.
23. Print Fewer Menus Per Table
Skip individual menu cards and opt for one or two per table to reduce printing charges by up to 90 percent. Display the menus in a nice-looking but inexpensive frames; it's a sure way to get guests talking.
24. Lose the Linens
Instead of renting expensive linens, top your venue's standard cotton or polyester tablecloths with a decorative runner and save about $25 per table.
25. Axe the Glass Vases
Ask your florist to use plastic containers instead of glass. They come in a variety of shapes, sizes and colors—even metallic, too—and guests won't know the difference.
26. Make It a Bamboo Bash
Use disposable, compostable bamboo plates for apps during cocktail hour and dessert, too. Verterra makes quality dishes that cost 50 cents each, plus they're eco-friendly.
27. Get Glowing
Fill the room with candles to up the romance factor and cut flower costs. Add depth by mixing tall candelabras and short glasses with tea lights.
28. Cut Transportation Costs
If you can plan your wedding day so that your ceremony and reception are at the same venue—or at two locations that are within walking distance of each other—you can save up to $4,000 by eliminating the need for guest and wedding party transportation.
29. Shake It Like a Polaroid Picture
Instead of renting a photo booth for thousands of dollars, create a Polaroid station with a few cameras, props and tons of film. It's just as fun!
30. Make Your Signature Drink a Limited Edition
Save thousands by serving a signature drink or two during cocktail hour only, then switching to beer and wine at dinner.
31. Forgo Top-Shelf Liquor
If your guests want gin, they don't need Bombay Sapphire to be happy. You'll save $1 to $4 per drink—and up to $25 per pour of fine scotches and bourbon.
32. Only Serve Bubbly at the Bar
Skip the Champagne toast and instead offer bubbly as an option at the bar to pay $10 less per person.
33. Source Your Caterer From the Suburbs
If you're getting married in a major city, try booking a less-expensive caterer who's based in a nearby suburb who's willing to travel for your event.
34. Save on Kids' Meals
If you're planning on having kids at your wedding, ask your caterer if their meals can be discounted. Caterers will often cut the cost in half—or offer a separate menu with less expensive à la carte pricing.
35. Get On Board with a Bountiful Buffet
To cut staffing costs, a buffet is really the way to go. Depending on the caterer, you could save anywhere from $1,500 to $3,000 per 100 guests, and you often get more food for the amount you pay, compared with a plated dinner.
36. Recruit Grad School Musicians
Think about hiring graduate-student musicians to play at your ceremony or cocktail hour. They can be booked for much less than the pros.
37. Downsize Your Cake
If you don't really want a custom tiered cake with all the bells and whistles, choose a smaller display size and supplement with a statement-making dessert bar, or serve sheet cake, which is only $4.50 per slice.
38. Embellish Just the Edges
Want the look of expensive sugar flowers, gold leaf or hand-painted accents? Ask your baker to decorate just the edges of the tiers to reduce the cost by a couple hundred dollars.
39. Not Everyone Will Have the Late Night Munchies
Order late-night snacks for only 70 percent of your head count. Some guests may leave early, and others won't want to eat.
40. Combine Food & Favors...
Instead of passing out late-night food and favors, combine the two by offering ready-to-eat edible favors, like milk and cookies or freshly-popped popcorn that's ready and waiting for guests as they leave the reception.
41. Or, Make Your Favors Travel Friendly
Most out-of-town guests want something to eat, drink or use in the hotel room—and is easily transportable. A scented travel candle or a little something sip or savor later won't break the bank.
42. Pass on Ordering the Extras (for Now)
To save on your wedding photography, you can always choose a less-expensive package that doesn't include hard-copy prints and albums. Those can always be bought and/or printed later.
Copyright:
Written By: Anna Price Olson
https://www.brides.com/gallery/wedding-budget-saving-tips
« Return to "Blogs"
Go to main navigation