Summer Fun on Any Budget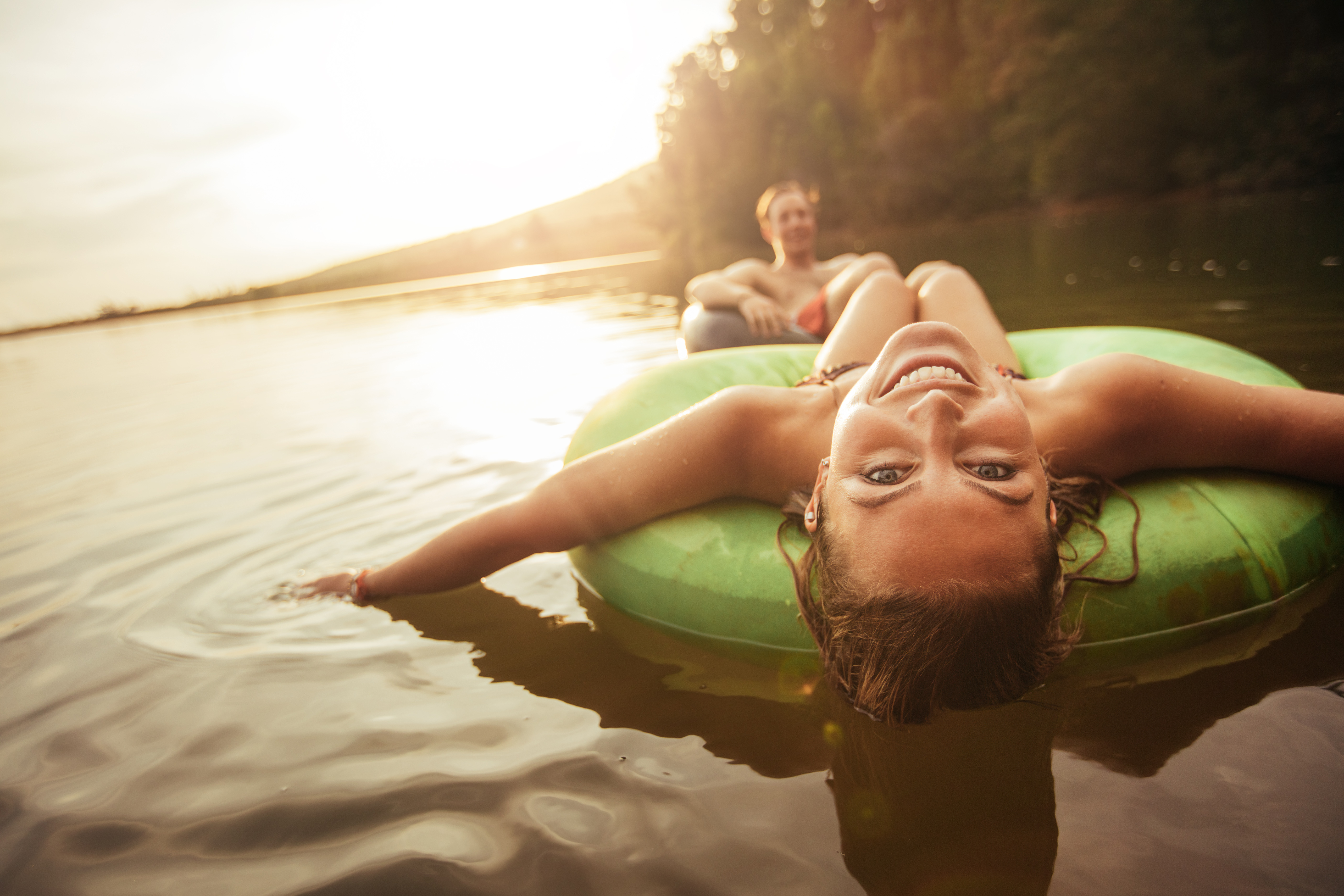 Summers are jam-packed with adventure! Rides on roller-coasters, outdoor adventures, baseball, music and more!
But summer fun also adds up pretty quickly. We want to make the most of summer and ensure our kids have a great time…but it seems like we're just a few fun activities from totally busting our whole summer budget.
Well, guess what? With a little planning and some guidelines, all that summer fun can still happen! It might mean scaling up or down depending on your budget size, but when it comes to summer activities, it's all about the experience, the memories, and enjoying the moment. Take some pictures of course, but one of the biggest things to remember is to put away your phone and live the experience IRL (that's in real life, folks).
SUMMER CONCERT
If this is a splurge… For music lovers, summer might be all about festival concerts! If a summer concert is a splurge for your family, the biggest way to save is to decide which bands you want to see the most, then narrow it down to one day. Buy tickets early and come prepared. Bring a water bottle with you to refill and only a set amount of cash. Eat beforehand so you aren't tempted by treats during the show. For longer and bigger concerts, it's usually wise to leave the kids at home—see if you can trade a neighbor or friend for babysitting to save.
If you're trying to save… To save more on summer shows, skip the festivals and opt to see just your favorite band. Don't splurge on merchandise, you can find t-shirts and other items online later for much cheaper. Come to the show well hydrated and full. Buy tickets early and try not to be picky about seats.
If you can't spend much more than a dime… Go for the family-friendly local concerts in the park. Many cities offer free or nearly free shows in parks (especially if you live near a college town). Bring a blanket and a picnic and kick off your sandals while you enjoy the music. Bonus fun if you get up and dance with your kids!
CAMPING
If this is a splurge… Camping starts out innocently enough, but by the time a tent, supplies, and food are purchased, (plus paying for camping spots in private grounds or parks), you might be looking at well over a $100 for a day or two of camping. Reserve your spot at Reserve America well ahead of time and avoid busy weekends whenever possible. Camping during weekdays is usually less expensive. Plan food ahead and don't forget to bring some fun (free) activities like outdoor games and challenges to keep kids having a great time. If you're renting an RV, avoid any unnecessary add-ons, look for deals, and rent only the size you need.
If you're trying to save… To save on camping, check Free Campsites to see what's available. Plan on tent camping which will help save money and go for a short time, especially if this is a first run at camping with kids. Pack simple meals like sandwiches and meals that don't require cooking to save both time and extra costs.
If you can't spend much more than a dime… Consider a backyard adventure or a day hike. If kids are begging for an under-the-stars experience, try a tent in the backyard, complete with stories, a flashlight and sleeping bags. The great thing about backyard camping is you can always opt to go inside if it gets too cold or difficult (and the bathroom is close by too)! Go for a hike nearby and explore local trails and nature preserves to get the full outdoor experience without the cost.
SUMMER SPORTS
If this is a splurge… If your favorite team is playing and it wouldn't be summer without the sights and sounds of the baseball field, then go for it! If baseball's your sport, the good news is tickets are often less expensive than football or basketball. Check MLB for tickets and special promotional days where you can get the most bang for your buck (think shirts and bobble heads—but also free food deals for the kids). Bring only cash to save you from paying high ATM fees and to keep your spending under control. To show your team spirit, purchase items online before the game, rather than at the stadium where hats, shirts, and other items can be double or triple the price!
If you're trying to save… To save money on baseball or other team sports, consider seeing a minor league team or going on a weeknight when your guys are playing a less-popular team. Watch for any promotions offered through local businesses for discount tickets. Eat and drink before going in by tailgating in the parking lot—you don't need to have a truck or a big setup. Simply pop your trunk, bring a few camping chairs and a game of bag toss, plus a mini grill (or forgo the grill and go for sub sandwiches)—and you're all set.
If you can't spend much more than a dime… Throw your own "baseball party" at home, where you can grill out right in your yard, listen to the game on the radio, and even toss the ball back and forth. Wear your favorite team gear and don't forget the peanuts and Cracker Jack. If you're missing the bleachers, check out local recreation leagues or even Little League games to cheer on the boys of summer or join an adult league and play softball yourself!
BEACH TRIP
If this is a splurge… Some of us can't imagine summer without the crash of the waves and the feel of sand between our toes! If you're planning a beach trip this summer, be flexible about the dates and even the location. Consider staying just off the beach, rather than opting for a hotel right on the beachfront. Remember to bring essentials like sunscreen, backup swimwear, extra towels, and other items to keep you from spending money once you get to your destination.
If you're trying to save… Go as local as possible. If you live in a state with a beach (even if it's a lake rather than an ocean), stay nearby to save on airfare, housing and more. If you do opt for a cottage, try a by-owner vacation rental like Vrbo or Airbnb. Eat at the cottage or pack meals as often as possible to keep from spending too much on the boardwalk.
If you can't spend much more than a dime… Find your nearest waterway. It might be a river or a pond, but chances are you can find a body of water close to home that offers a chance to try out some water activities. Many communities with rivers have recreation areas where you can rent kayaks or canoes very inexpensively. (They may even offer free usage for locals and students.) There's plenty of fun to be had on the banks of a river. Make it a daytrip, and enjoy!
AMUSEMENT PARK
If this is a splurge… If you live near Disney World, Disney Land, or Six Flags, watch for local discounts! There are many ways to save on a Disney Vacation and with some research, you can have the adventure you want for much less than you'd expect. Enjoy the Magic Kingdom by bringing in your own food, watching for discount opportunities, and opting out of more expensive items like speed passes. Opt for lodging outside of the park. Go off-season or at less-popular times and skip the souvenirs (opt for memories instead).
If you're trying to save… Consider going to a smaller amusement park or the State or County Fair. Many fairs are around $10-15 per person and most are driving distance from home, but still offer the food, thrills and excitement. Kids can still ride the rollercoaster and marvel over baby animals, and there are plenty of foods-on-a-stick and other treats on the cheap. Look for other local attractions as well like Navy Pier in Chicago (with a big Ferris wheel), Coney Island, or the observation deck of the Space Needle in Seattle. Many cities feature a few fun thrill rides and permanent attractions that cost a fraction of the big amusement parks.
If you can't spend much more than a dime… Almost every city has a local day of celebration with carnival rides and fun. Local church festivals can also be a cheap option. Plan ahead to ride just a few rides (especially if they cost money beyond admission) and eat before you go. Walk around and make a game of playing I-spy or plan out a carnival bingo game before you go, especially if you plan to skip the opportunities to win "fabulous" prizes. (Do the kids really need a giant stuffed Minion?) Street markets and festivals with shopping/craft booths can be fun for adults but less-exciting for kids, who may simply prefer a trip to the park or your local mini-golf course and bumper cars. Watch Groupon and other sites for cheap tickets, especially during the summer when attractions are trying to bring in more schoolkids and their parents.
VACATION
If this is a splurge… If you've been planning a vacation for a while and an opportunity arises, you can still find plenty of ways to save on your trip. Cash in any airline points or miles and use them toward your trip. For lodging, again, consider a vacation rental over a hotel or motel. If you're planning a cruise book late. then make the most of it with a few of the tricks found here.
If you're trying to save… Consider staying with friends or family, rather than going to a totally new destination. If you know someone who lives in the town you're visiting, see if you can bunk at their place. (Remember to only plan a day or two, so as to not wear out your welcome.) Save up your entire vacation budget before you go and pay strict attention to not go over. Research free attractions for the town you're visiting and plan on sightseeing and walking whenever possible.
If you can't spend much more than a dime… Consider a staycation. There are so many fun things you can do locally, especially if you deliberately plan it out and make it special. Turn off technology, put all work on hold, and treat it just like a "real vacation." You may be quite surprised to find out all the things you can discover right in your own neighborhood.
ROAD TRIP
If this is a splurge… Road trips are awesome! Our family loves them and I'm sure yours will, too. One of the best tips I've found is to do a little planning before your trip but to also enjoy the journey (meaning: don't over-plan)! Stay with friends and family whenever possible and don't plan on just "power driving" if you can help it. Explore each stop and attraction and really embrace your time together.
If you're trying to save… Rather than a huge road trip, consider planning a weekend road trip or just a few days where you can explore the next state or two over. Rather than a huge cross-country-type trip, a weekend road trip can be a little more flexible. With just a few days on the road, you could even consider camping along the way. Do research about your destination town so you can get the most from the experience.
If you can't spend much more than a dime… Go somewhere a few hours away. Go to a nearby big city or check out a cute country town. If there's a popular destination in your state, give it a go and make a daytrip out of it. Historical sites can be great fun, along with zoos, farms and kid-friendly museums. You might just have a treasure in your own backyard—and the best part is, you get to come back home to your own bed at night.
SUMMER SOIREE
If this is a splurge… Send out invites a few weeks ahead and plan a theme for a fabulous party. For a dinner party, plan the menu and decorations well in advance so you can watch for sale items and make the most of shopping ahead. Splurge on an unexpected surprise like a special entertainer, a bounce house, or a great spread, and then save in other areas to stay on budget
If you're trying to save… You can still have plenty of fun with less-expensive entertainment—opt for yard games, a projector and an outdoor movie party, or a grill out. Pick just one or two drinks to serve and opt for a buffet-style meal rather than a more formal sit-down. Keep food simple and go for a fun dessert!
If you can't spend much more than a dime… Go potluck! Keep things really casual by firing up the grill and inviting friends to bring a dish and something to toss on the grill. Turn on some music, string some lights around the porch, and play group games.
WATER FUN
If this is a splurge… Waterparks are a blast in the summer and a great way to cool off. Check out deals at waterparks in town and watch for special offers on season passes or group discounts. When you go, bring snacks along and all the supplies you'll need—towels, sunscreen and cash. Use the lockers available to keep everything safe because you'll want your hands free to enjoy the fun.
If you're trying to save… Always go on off-peak times and during the week rather than on the weekends or holidays. Many parks offer half-day passes which can help you save, especially with young kids who tire after about four hours in the sun and water. Don't wear your best swimsuits, as the chlorine and rides at waterparks can often leave suits in less-than-optimal condition.
If you can't spend much more than a dime… Go to the pool in town or just have some backyard fun in the kiddie pool. Cooling off in the summer doesn't have to be expensive. A sprinkler, a small pool and some popsicles can be a great time for everyone. Try a water balloon toss, a Super Soaker fight or just spray everyone with the hose!
No matter what you do in the summer and what your plans are, there's fun to be had on any and every budget. Whether you can afford to splurge or if it's time to save a little this year, you can still have the best summer ever. There's no reason to miss out on fun, just plan ahead and go for the activities you can afford!
© 2017 Living Well Spending Less
http://www.livingwellspendingless.com
« Return to "Blogs"
Go to main navigation