Loan Specials
Check out all of our loan specials, happening for a limited time! Click below to view each special along with all of the details!
Mastercard Holiday 2x Points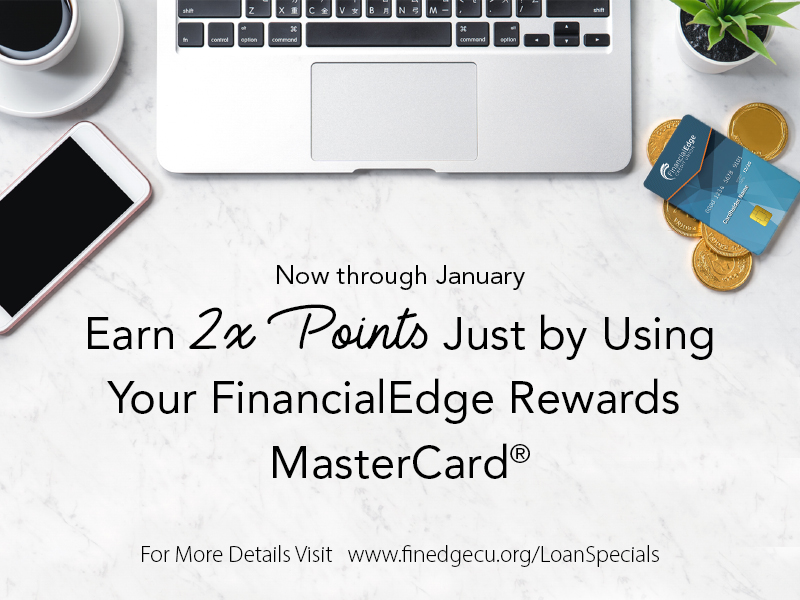 Mastercard® Holiday 2x Points
What makes the holiday season even better? By rewarding yourself, of course! Now through January 15th use your FinancialEdge Rewards MasterCard® and earn double points on all your purchases*!
How Do I Earn Points?
It's so easy - just use your card. For each dollar you spend, you'll earn DOUBLE* the points. More info on the MyEdge Rewards program can be found HERE.
What Kinds of Rewards Can I Earn?
Our rewards card gives the most rewards options. Choose from:
Travel rebates

Gift cards

ID theft protection services

Event tickets

Experiences

Cash back

And more!
Don't have a FinancialEdge Rewards MasterCard®?
*Double points can be earned November 1, 2020 – January 15, 2021 on all purchases made using your FinancialEdge MasterCard® Rewards Credit Card. Points will be earned based on net purchases (purchases minus returns and/or other related credits). Offer is limited to accounts in good standing. Cash advances, transfers, ATM transactions or PIN transactions do not qualify for points. Terms and conditions apply. Offer subject to change without notice. Double points can be redeemed starting one month after the campaign ends.
New Year Auto Loan Special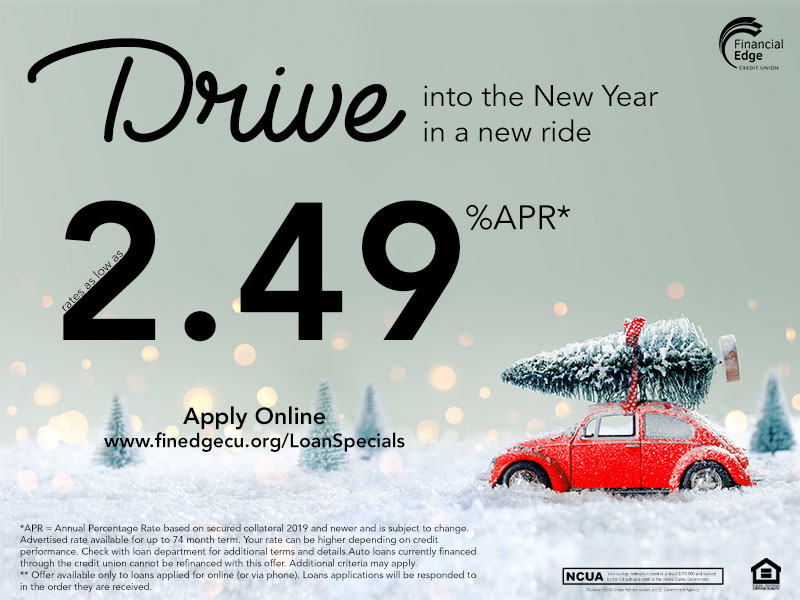 Drive into the new year in a new ride! Happening THIS MONTH ONLY we've lowered our rates on new and refinanced Auto Loans. Fulfill your New Year's resolution of saving money with getting these crazy low rates along with a new ride or lower monthly payments.
Getting this ONLINE ONLY OFFER** is as easy as 1, 2, 3:
Apply online.

Applications must be received by Sunday, January 31, 2021.

Hold tight. We will respond to all applications in the order they are received.

Get your funds! Then complete the refinancing of your existing loan from another lender or the purchase of your qualifying vehicle. (Once application is received, offer will be good for up to 2 weeks to complete any new purchases.)
Our New Year Auto Loan features include:
*APR = Annual Percentage Rate based on secured collateral 2019 and newer and is subject to change. Advertised rate available for up to 75 month term. Your rate can be higher depending on credit performance. Check with loan department for additional terms and details. Auto loans currently financed through the credit union cannot be refinanced with this offer. Additional criteria may apply.
** Offer available only to loans applied for online (or via phone). Loans applications will be responded to in the order they are received.
Go to main navigation