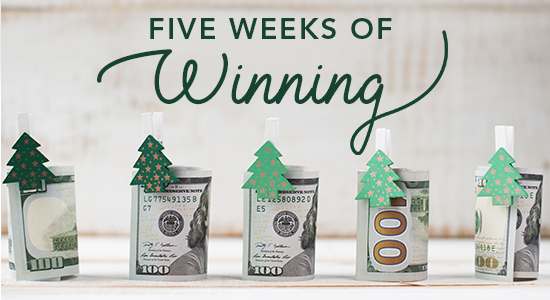 FinancialEdge Credit Union wants to reward you this holiday season with our Five Weeks of Winning sweepstakes!

Simply use your FinancialEdge Credit Union Mastercard® debit or credit card between November 25th and December 29th for a chance to win one of five (5) weekly $100 drawings! You will earn an entry each time you make a purchase. That means each time you choose your FinancialEdge card, you get another chance to win!
Don't have a FinancialEdge Credit Union credit or debit card?
Learn more about credit card options
DON'T MISS YOUR CHANCE TO WIN - PLAN AHEAD!
Set your FinancialEdge debit or credit card as your default payment option online (ie Amazon, PayPal, ApplePay, etc) for the convenience of one-click shopping every time you buy! Or just remember to take it with you everywhere you go so you'll be sure to have it at checkout!
Plus, if you keep using your card, you'll automatically be ready to win the next time we do a surprise giveaway.
TIMETABLE for DRAWINGS:
| | | | |
| --- | --- | --- | --- |
| Drawing Period | Start Date to enter Drawing | Deadline to enter Drawing | Drawing Date |
| Drawing 1 | 11/25/19 | 12/01/19 | 12/02/19 |
| Drawing 2 | 12/02/19 | 12/08/19 | 12/09/19 |
| Drawing 3 | 12/09/19 | 12/15/19 | 12/16/19 |
| Drawing 4 | 12/16/19 | 12/22/19 | 12/23/19 |
| Drawing 5 | 12/23/19 | 12/29/19 | 12/30/19 |
Contest Rules - Five Weeks of Winning

Official Rules

GENERAL. NO PURCHASE NECESSARY TO ENTER OR WIN. A PURCHASE WILL NOT IMPROVE YOUR CHANCES OF WINNING

The following Promotion shall be governed by Michigan law, without regard to conflict of law provisions. Each entrant is referred to herein as "you" or "your" in these Official Rules. Do not enter this Promotion if you do not meet the following requirements at the time of entry.

ELIGIBILITY. The "Five Weeks of Holiday Winning" promotion (the Promotion) is open only to legal residents of the United States, who, at the time of entering the Promotion are eighteen years of age or older and are existing FinancialEdge Credit Union accountholders in good standing. All entrants must be natural persons. No entries from business entities accepted. Employees and officials of FinancialEdge Credit Union, their immediate families (parent, child, sibling or spouse) and/or persons living in their households, and any other persons or entities associated with this promotion are ineligible to enter or win. Void where prohibited by law.

SPONSOR/ADMINISTRATOR. The Promotion is sponsored and administered by FinancialEdge Credit Union ("FinEdge"), 1199 S Euclid Ave, Bay City, MI 48706.

PROMOTION PERIOD. The Promotion begins on Novmeber 25, 2019 at 12:00 am Eastern Standard Time (EST) and ends on December 29, 2019 at 11:59 pm EST (the "Promotion Period").

HOW TO ENTER. There are two Methods of Entry: During the Promotion period, you may enter by:

Automatic Entry Method

. During the Promotional Period, eligible entrants who use their FinancialEdge Credit Union MasterCard® debit or credit card ("Eligible Cards") connected to a FinancialEdge Credit Union personal account (the "Eligible Account") with each transaction posted to the Eligible Account with a settlement date (the "Purchase") during the Promotional Period, will receive an automatic entry in the Weekly Drawings (as later defined) for each Purchase completed during that week. Only eligible entrants making Purchases with an Eligible Card that is not in default under the member agreement for the Eligible Account, both at the time of purchase and at the time of the applicable Drawing (as defined below), are eligible for automatic entry. No entry will be granted to any entrant whose Eligible Account is overdrawn or has been closed at the time of the Drawing. All automatic entries will be deemed to be submitted by the primary person in whose name the Eligible Card used to enter the Sweepstakes was issued. Account adjustment transactions, foreign transactions, returns, cash advances, ATM transactions or similar cash withdrawals, balance transfers, and payment of late fees or over-limit fees to the Sponsor or any affiliate of the Sponsor, are excluded from automatic entry. Eligible cards or card numbers that are stolen, fraudulent, tampered with, or otherwise altered are not eligible for participation in the Sweepstakes.

Mail-In Alternative Entry Method.

During the Promotional Period, eligible entrants may hand print the eligible entrant's name, address, city, state, ZIP Code, telephone number, e-mail address, and date of birth on a 3" x 5" card and mail the card in a hand-addressed, stamped envelope to 2019 5 Weeks of Winning Card Sweepstakes Program, FINANCIALEDGE CREDIT UNION, PO Box 446, Bay City, MI 48707-0446. Mailed entries must be received by the "Deadline to Enter Drawing Date" listed in the chart below to be eligible for the corresponding Drawings. Limit 1 entry per envelope. Mechanically reproduced, photocopied, illegible, incomplete, or inaccurate entries are automatically void.

RANDOM DRAWINGS.
Weekly Drawings. The Sponsor will conduct a total of five (5) random weekly drawings on or about the days set forth below from among all eligible entries timely received during the periods set forth in the table below. Please note that automatic entries will be deemed received on the date the Purchase settles to the Eligible Account, not the date on which the Purchase occurs. Entries for each weekly Drawing will not be included in subsequent weekly Drawings.

| | | | |
| --- | --- | --- | --- |
| Drawing Period | Start time to enter Drawing | Deadline to enter Drawing | Drawing Date |
| Drawing 1 | 11/25/19 | 12/01/19 | 12/02/19 |
| Drawing 2 | 12/02/19 | 12/08/19 | 12/09/19 |
| Drawing 3 | 12/09/19 | 12/15/19 | 12/16/19 |
| Drawing 4 | 12/16/19 | 12/22/19 | 12/23/19 |
| Drawing 5 | 12/23/19 | 12/29/19 | 12/30/19 |


At each weekly Drawing, (each, a "Weekly Drawing") the Sponsor will randomly select one (1) entry from all eligible entries received during the applicable time period for a $100 prize.

Rules applicable to both Weekly Drawing and the Grand Prize. The decisions of the Sponsor are final and binding in all matters relating to the Sweepstakes, including the Drawings. The eligible entrants selected (subject to verification of eligibility, the "Winners") will be notified by phone, e-mail and/or U.S. Mail on or about two (2) business days following each Drawing. A Winner in one week cannot be a Winner in an additional Weekly Drawing. Winners must claim their prize in person for a photo and must consent to Sponsor use of name and image for marketing/promotional use. Winners must meet all eligibility requirements. If any prize or prize notification or attempted notification is returned as undeliverable, if Sponsor is unable to contact a potential winner within a reasonable time period, or if a potential winner is found to be ineligible or otherwise not in compliance with these Official Rules, the prize may be forfeited.

PRIZE/ODDS. Each Weekly Drawing will result in one prize in the amount of $100.00. The maximum aggregate value of all prizes awarded for the Sweepstakes will be approximately $500.00. Odds of winning will depend on the number of eligible entries timely received. Payment of each prize (the "Prize Distribution") will be made by a cash deposit to the Eligible Account connected to the Eligible Card. All prizes will be awarded within 10 days after the date the Drawing occurs.

Total prize winnings are limited to $100.00 per Winner per Weekly Drawing. Winners may not substitute or transfer the prizes. Expenses not stated in these Official Rules, including but not limited to, taxes on prizes and any other expenses related to the acceptance of prizes, are solely the responsibility of the Winners. If applicable, Winners will be issued an IRS 1099 tax form for the prize value. Any other prize details will be at the sole discretion of the Sponsor. Prizes will not be fulfilled where the Sweepstakes is void. If a winner refuses a prize, an alternate winner may be selected from among the remaining eligible entries timely received. Acceptance of a prize will be deemed to be confirmation of a Winner's agreement to be bound by these Official Rules and the decisions of the Sponsor.

LIMITS ON LIABILITY. Sponsor and its affiliates, and all of their respective officers, directors, shareholders, employees, agents and representatives (collectively, "Released Parties") are not responsible for illegible, lost, late, delayed, deleted, damaged, incomplete, postage due, misdirected, undeliverable, mutilated, destroyed, or stolen mail entries; or for incorrect, delayed or inaccurate entry information whether caused by systems issues, site users, inaccurate records, human processing, tampering, hacking, theft or destruction, or by equipment or programming used in this Sweepstakes; or for any error, interruption or unavailable network, server, satellite, or other connections; or for miscommunications, failed computer, telephone or cable transmissions, lines or technical failure; or for jumbled, scrambled, delayed, or misdirected transmissions, computer hardware or software malfunctions, failures or difficulties; or for any other errors of any kind, whether human, mechanical, electronic or network. Should any portion of the Sweepstakes be, in Sponsor's sole opinion, compromised by virus, worms, bugs, or non-authorized human intervention or other causes which, in the sole opinion of the Sponsor, corrupt or impair the administration, security, fairness or proper play, or submission of entries, Sponsor reserves the right at its sole discretion to suspend or terminate the Sweepstakes, and may select winners from entries received prior to action taken or as otherwise deemed fair and appropriate by Sponsor.

PARTICIPATING, ENTRANTS AGREE TO THE FULLEST EXTENT PERMITTED BY LAW TO RELEASE, DISCHARGE AND HOLD HARMLESS THE SPONSOR AND THE RELEASED PARTIES FROM AND AGAINST ANY AND ALL ALLEGED AND/OR ACTUAL CLAIMS, CAUSES OF ACTION, DEMANDS, LOSSES, SETTLEMENTS, LIABILITIES, AND DAMAGES WHATSOEVER (INCLUDING WITHOUT LIMITATION BODILY INJURY, PERSONAL INJURY, DEATH, DISABILITY, PROPERTY DAMAGE, VIOLATION OF PROPRIETARY, PUBLICITY, PRIVACY, OR ANY OTHER RIGHT), COSTS AND EXPENSES (INCLUDING WITHOUT LIMITATION REASONABLE ATTORNEYS' FEES, COURT COSTS, SETTLEMENTS, AND DISBURSEMENTS) DIRECTLY OR INDIRECTLY ARISING OUT OF OR RELATED TO USE OF THE ENTRY, THE ACCEPTANCE, POSSESSION, USE, MISDIRECTION, OR MISUSES OF A PRIZE AND/OR PRIZE-RELATED ACTIVITY OF WHATEVER NATURE, AND ACCESS/USE OF ALL WEBSITES, WHETHER OR NOT CAUSED BY THE NEGLIGENCE OF ONE OR MORE OF THE RELEASED PARTIES. IN NO EVENT WILL THE RELEASED PARTIES BE RESPONSIBLE OR LIABLE FOR ANY INDIRECT, INCIDENTAL, CONSEQUENTIAL, OR PUNITIVE DAMAGES ARISING OUT OF THE SWEEPSTAKES OR ITS PRIZES OR ANY OF THE SPONSOR WEBSITES.

CONDITIONS OF PARTICIPATION. Entrants agree (a) to abide by these Official Rules and all decisions of Sponsor which shall be final in all respects relating to the Sweepstakes; (b) that Released Parties will have no liability whatsoever for, and shall be held harmless by Winners against any liability for any injuries, losses or damages of any kind to persons, including death, or property resulting in whole or in part, directly or indirectly, from acceptance, possession, enjoyment, use or misuse of any prize or participation in the Sweepstakes or any Sweepstakes-related activity, or for any typographical or other error in the printing, offering or announcement of any prize via entry forms, posters or any other media; (c) except where legally prohibited, grant (and agree to confirm that grant in writing) permission for Sponsor and those acting under its authority to use his/her name, photograph, voice and/or likeness, for advertising, trade and/or publicity purposes without additional compensation in all media now known or hereafter discovered, worldwide and on the Internet, without notice, review or approval, as well as disclose publicly that entrant is a customer of Sponsor; (d) that Winners may be required to complete, sign and return a Statement of Eligibility or other such documentation as Sponsor may require to verify such Winner's eligibility and that if documents are not returned on a timely basis, or if a Winner is found to be ineligible, or not in compliance with these Official Rules, his or her prize will be forfeited and, solely at Sponsor's discretion, may not be awarded, or may be awarded to an alternate winner; and (e) Sponsor may disqualify anyone from participating in the Sweepstakes or winning a prize if, in its sole discretion, Sponsor determines that such person is attempting to undermine, tamper with or abuse any aspect of the Sweepstakes, by cheating, deception or other unfair playing practices, or intending to annoy, abuse, threaten or harass any other entrant or Sponsor's representatives.

ANY ATTEMPT TO DELIBERATELY UNDERMINE THE LEGITIMATE OPERATION OF THE SWEEPSTAKES MAY BE IN VIOLATION OF CRIMINAL AND CIVIL LAWS AND SHOULD SUCH AN ATTEMPT BE MADE, SPONSOR RESERVES THE RIGHT TO SEEK DAMAGES AND OTHER REMEDIES (INCLUDING ATTORNEYS' FEES) FROM ANY SUCH INDIVIDUAL TO THE FULLEST EXTENT OF THE LAW, INCLUDING CRIMINAL PROSECUTION.

GENERAL. By accepting the Grand Prize, where permitted by law, the Grand Prize Winners grants to the Released Parties and those acting pursuant to the authority of Sponsor and the Released Parties (which grant will be confirmed in writing upon Sponsor's request), the right to print, publish, broadcast and use in all media without limitation at any time the Prize Winner's full name, portrait, picture, voice, likeness and/or biographical information for advertising, trade and promotional purposes without further payment or additional consideration, and without review, approval or notification. Entrants acknowledge that the Promotion is in no way sponsored, endorsed or administered by, or associated with Facebook or Instagram.

PRIVACY. All information submitted will be treated according to Sponsor's privacy policy, available at www.finedgecu.org/privacy. By participating in the Promotion and providing your contact information, all persons entering hereby agree to Sponsor's collection and usage of their personal information and acknowledge that they have agreed to be bound by Sponsor's Privacy Policy.

WINNERS LIST REQUEST. To request confirmation of the name, city, and state of residence of the Drawing Winners, please send a self-addressed, stamped business size envelope, by December 31, 2019 to:

Marketing - Winners List Request
FinancialEdge Credit Union
PO Box 446
Bay City, MI 48707-0446

SPONSOR. FinancialEdge Credit Union, PO Box 446, Bay City, MI 48707.
Go to main navigation