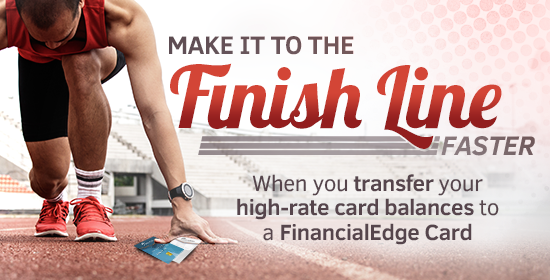 Transfer rates as low as 4.99% APR
18 Months
$0 Balance Transfer Fee
Transfer your higher rate balances to a low rate FinancialEdge Credit Union Card. Not only will you get a great rate, but you'll also receive these benefits**:
No Annual Fees
MyEdge Rewards (when you select the Rewards Mastercard)
Universal acceptance
Emergency Assistance
Fraud Protection
Online account access
Worldwide ATM access
and more!
For more information or to apply by telephone, you may reach our Loan Department at 989-892-6088, or stop by our branch locations. email

CardNav is a mobile app that gives you control of when and how your cards are used. Identify potential fraud, monitor and control spending instantly, and receive lightning fast alerts - all from the palm of your hand.
Mobile Wallet Options (now available)
*Those with a credit score of 640 or higher with accounts in good standing at FinancialEdge Credit Union and enrollment in CardNav may qualify for the 4.99% APR offer. Those with a credit score of 639 or less with accounts in good standing and enrollment in CardNav may qualify for a rate of 9.99% APR. If not enrolled in CardNav, the qualifying rates will be 1.00% higher or 5.99% APR and 10.99% APR respectively. Transfer rate SPECIAL on balance transfers made July 1, 2019 – September 20, 2019 and is not available for purchases, cash advances or balance transfers made outside of the promotional period. Promotional rate will return to your regular rate as per your credit agreement after 18 statement cycles (months) from balance transfer date or once the balance transfer amount is repaid. Any remaining unpaid balance transfers made during the promotional period will return to the cardholder regular rate after 18 months. Rate subject to change. Balance transfer not offered on existing FinancialEdge card balances.
Go to main navigation